My year in conferences:
First was WeCamp2017 (Harderwijk, The Netherlands) – August
Then came PHPNW17 (Manchester, UK) – September
And to finish the year SymfonyCon2017 (Clij-Napoca, Romania) – November
Comparison
It was the beginning of 2017, exactly on January 2, 2017. I was in my job place reading my morning feed on twitter and one tweet about WeCamp2016 grabbed my attention: 1 island, 25 programmers, 5 days, 6 coaches, pirates, beers, games… Everything just seemed like it would be crazy and a lot of fun, and that's how it was, as well as enriching on a personal level.
After sending an email, adding and waiting on the announcement mailing list for early tickets, I was one of the first to buy my geeks holiday in De Kluut.
From WeCamp I wanted to know and compare if what I was doing in my job was the right thing to do, if there was a lot of difference between colleagues from other parts of the world, in short, if there was a better job. I ended up discovering that what I had to improve was not my abilities as a programmer but not being afraid to speak in public and less in English. And so it was, my coach Steven knew how to see that fear in me and trusted me (suggesting / forcing me) for the final presentation of the project. Despite the initial nerves, the presentation was perfect.
"Challenge fulfilled!"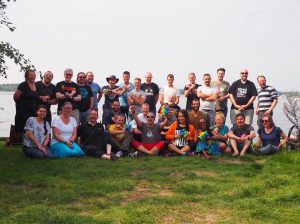 Motivation
The last day at WeCamp, after the best presentation on WeCamp history hehe there was a raffle and I was one of the lucky ones who won an entry for the PHPNW Conference 2017 in Manchester. And there I was, with the support of my company.
It was a privilege to see Rasmus Lerdorf on the stage talking about PHP as well as some of the coaches who had been with us at WeCamp.
Nowadays, saying that you develop in PHP is not very common, it sounds old-fashioned. From this conference I discovered a motivation in the knowledge that this language was still relevant, that PHP7 is moving in the right direction and that there is a large community that continues to advance.
"Charged batteries and free spinners for my co-workers!!"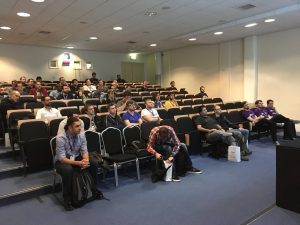 Specialization
Back to my work and my dear Symfony, I decided to rely again on my luck and fill out a form for a scholarship to SymfonyCon 2017. I was golden again, they answered my email to say that i had been one of the lucky ones, so I started proceedings to get back my company's support with the flights and accommodation for the conference. The company did not hesitate and did everything in their power to ensure I would enjoy the experience.
Going into this conference I was already aware of how it works and how you should attend the talks that motivate you the most. With only luck (more or less) on my side, I left fully satisfied with the conference.
Symfony is my daily work tool so I did not learn anything that I had not seen in the blogs and tweets that I usually follow. Watching 'the Symfony leader' and all of his troop so close was an experience. From this experience I discovered that specialization really makes you more valuable on a professional level.
"And above all, I got my Symfony mug :)"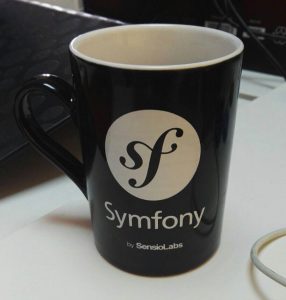 Final serendipity
You get a real taste of being in conferences, even more so when the tickets are free! Next year I do not know if there will be more, less or none of them or if I will end up being one of the speakers. Who knows? Why not?
"We all know something, we all have something to tell, we all have something to learn, we all have something to share."
Thanks to Andreas for giving me a day inside this enriching idea.