The year 2016 has been revelatory for me. It is the year that I finally became hooked to the Community aspect of the tools I work with on a daily basis. To explain why this needed to be explicitly "revealed" to me, I'll take a step back and tell you about my background.
Changing Careers
I have been working for some time as a government agent before, working on IT integrations amongst others. After several years of working on fruitless tasks and turning in elected circles, I was so fed up that I decided to quit that job and start freelancing. As there's no such thing as a "general-purpose government freelancer", I opted to do web development instead.
I primarily chose the platform to specialize on based on sheer market volume, to make sure I had a sizable target audience: WordPress. This meant that I spent the first year mostly working in isolation on smaller client projects to get to grips with WordPress and PHP development (and web development in general, as I had almost exclusively worked on desktop applications up until then). As I have been doing development with varying degrees of intensity for about 25 years now and working on many different platforms and languages, I was able to make rapid progress, and after that initial year, I started to put myself out there to position myself as an advanced developer (in the WordPress space).
Dabbling In Social Interactions
It started with Slack teams, where I made sure that I was the one answering all the more difficult questions. If I didn't know the answer right away, I looked it up (as I should have known it from the start). I also enjoyed the "watercooler talk", as working from home can be very isolating. I couldn't talk about my daily challenges with my wife Carole, so it felt good to have people I was able to speak to regarding these topics. In the beginning, I was not aware how important that aspect was, though.
After some time of doing this, people started to notice the value I was offering, and they often also wanted to meet at Meetups or WordCamps. Now comes the part where I was missing a piece of the puzzle…
In my mind, Meetups and WordCamps were mainly targeted at end users and provided a laid-back weekend activity for people that are deeply involved in one single platform/language/project. I was after business value and a return on investment of my time, so I wasn't interested in meeting with other people to discuss WordPress drama. When I was looking at the session plan of a WordCamp or other conference, I always thought: "That topic has already been covered in a blog post two years ago. Why bother?". I am a very practical and goal-oriented person, and these events didn't seem to help me achieve any of my immediate goals. Add to this that I'm more of an introvert, although I can hide it most of the time.
Vienna
Fast-forward to the summer of 2016. Slack as a networking tool had worked wonders for me, and I had been discussing and working on a daily basis with people I had still looked up to one year before. WordCamp Europe was held in Vienna, and it just so happened that a lot of these people were assembling in the same city for a week, because of the WordCamp. I had never met these people in person, so I decided to head there as well. And given that Vienna is a beautiful city, my wife was coming along.
WordCamp Europe was a delightful experience for us both. It had about 2200 attendees, which meant that there was always a dinner or party to go to after sessions, or a fun activity to do on your extra days. It allowed me to get a real feel for the people I was constantly communicating with online. This adds another layer to the communications and prevents a lot of the misunderstandings you constantly face when only communicating in written form. What's better to defuse a potentially ambiguous statement in Slack or email than to imagine the smiling face of the author while reading?
Carole does not work professionally with computers at all; she merely uses them for basic surfing and communication needs. She was worried that we "nerds" would just talk "nerdish" all day long and exclude her in the discussions. What happened though was quite the contrary. These were people I had come to associate with based on shared interests and values, not on geographical proximity. Apart from this making them generally more diverse and open-minded, it also meant that they were mirroring some of the traits she was valuing in me. She was highly inspired by all the discussions she'd had and felt withdrawal symptoms when we got back home. She also did much better on the following up than I did…
Being Part Of The Community
After this experience, we started to more systematically attend WordCamps. We also made sure that we applied as volunteers whenever it was possible. We felt the need to give back to this great group of people and truly enjoyed doing so.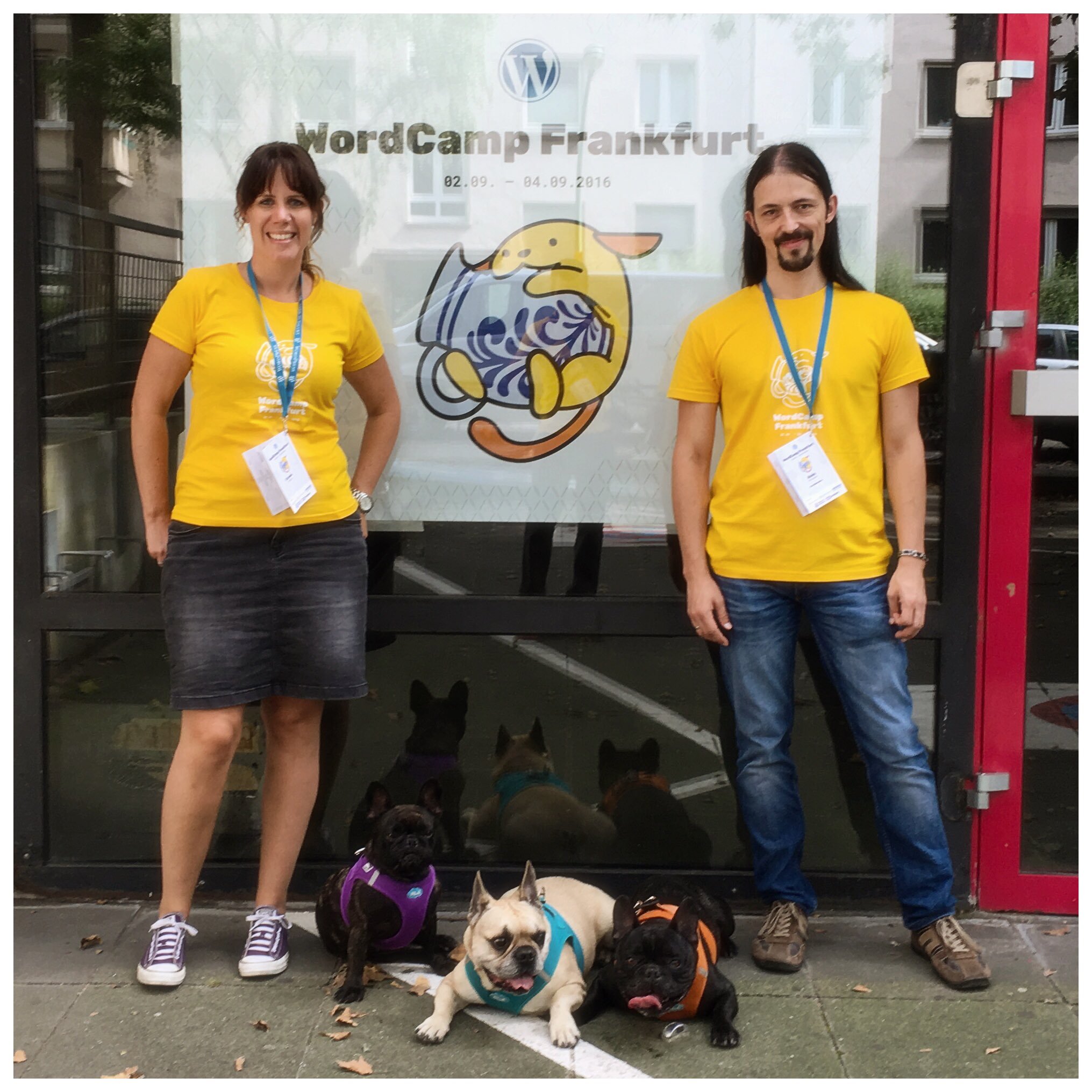 At one point, Carole also took part in a "Contributor Day", an optional extra day on WordCamps where everyone gathers to help work on WordPress itself. Several teams are formed, and Carole got to participate in both the Polyglots team as well as the Community team, as these don't require technical knowledge. At the end of the day, she had localized one free theme into German (which was committed the same day) and joined the discussions for organizing a new type of WordCamp, which she now seems to be an integral part of.
After attending some WordCamps as a "developer + developer's boss" team, I noticed that our discussions were changing. She knew the people I was talking about, she understood the projects and concepts I was referring to, and she was not bored out of her mind when I talked about my current development issues.
Impact Of The Community
A lot of people will tell you that a Community is a big family by choice, where you'll meet great people, have lots of fun and reap networking benefits as a perk on top of that. This is all true. But to me, the Community has had an additional impact I didn't expect. The Community has actually allowed Carole to take part in the life I'm leading during the day, where she was locked out of before that. She still does not code or understand WordPress specifics. But she can finally relate to what I'm talking about.
Thanks for joining me in the more "nerdy" part of my life, @CaroleOlinger ! #WCFRA pic.twitter.com/VuTHtW3EkP

— Alain Schlesser (@schlessera) September 4, 2016
I now intend to get to know the PHP community better as well. I guess this will be a bit more challenging, as I will need to bridge the gap between these two communities that seem to grow further and further apart (because of technical reasons).
But this time around, I know that it's worth the effort, so I won't be easily discouraged.
Let's meet in 2017!