I should begin that I really love the Christmas-calendar-like concept of "24 days in December", thank you Andreas for doing this again! I'd also like to warn you that I share a passion for zombie-apocalypse movies, hence the twist in the title this contribution bears.
My initial idea was to put up a quick summary of what I love about the PHP community. As I was trying hard to think of what I like best, I realized that it is impossible to find anything I don't like about it. That's because I carry a very particular germ in my veins, giving me the PHPever!
Yes, I do believe the PHP community is extremely contagious and that's what I love the best about it. Just look at the people behind it: A great generous fun-loving crowd that's getting bigger and bigger by the hour!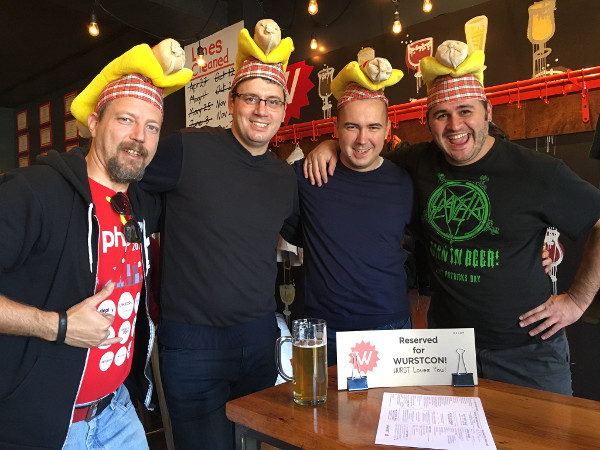 (Left to right: Michelangelo van Dam, Milan Popović, Dušan Lukić, Mihail Irintchev at Wurstcon after TrueNorthPHP 2016)
The rapid outbreak is aided by several factors:
It is airborne (like sound/human voice): Whenever people meet to talk about it they usually get all the innocent first-timers sick in minutes. And all these UG meetings and conferences people organize all year round just make the whole situation pandemic!
It causes the release of dopamine and other good stuff in your brain that make you feel extra happy with what you are doing. Like eating chocolate but without the whole calories-counting overhead.
Unlike other contagious pathogens, it spreads over TCP/IP as well!
Clinical Case Study:
The real story behind the start of our local UG (Bulgaria PHP) is that I went to a conference overseas three years ago, not expecting at all what I am going to bring back home with me. I met Michelangelo van Dam (@dragonbe) who managed to turn me into the patient-zero case for my local outbreak that started 24 days later…
Bad thing about the PHPever is that unlike regular fever, it does not make you want to stay home and lay in bed. On the contrary, it would drive you to meet other people at public places that you eventually end up contaminating. This social behaviour adds up to how serious the whole situation becomes given enough time. 24 months later (to be precise), with a good number of UG meetings behind us and an even better number of new friends we made along the way, our little community was even able to put up a conference that people remember with warm feelings. 36 months after day zero we did it again even better! We contributed in enlarging the PHPamily, which produced a chocolate-on-steroids kind of dopamine wave in our brains.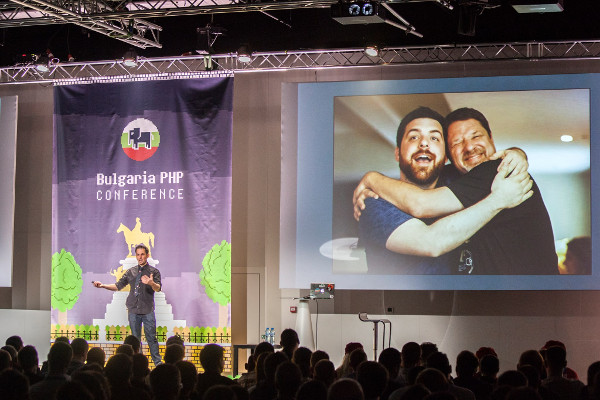 (Jeremy Mikola doing a keynote about the great people of the PHP community at Bulgaria PHP 2016)
I thank God for all the wonderful people I met along the way, including Andreas Heigl, who has taken the business of spreading the infection really large-scale!
Warning:
So, you have been officially warned: If you are new to this whole PHP community thing, and there is no user group around you, there is a great chance that by reading this you've already caught the germ (over TCP/IP). The next 24 days may turn out to be just enough incubation period for you to start a local outbreak.
Godspeed, patient Zero!